The lynchpin for charter-school reform
With great fanfare, the Dispatch's recent bombshell article outed seventeen charter schools in the Columbus region that closed within the past year. The closures occurred for a variety of reasons, ranging from fiscal woes to unsanitary conditions. Spicy material, yes, but beyond the headline, the Dispatch published a no-less-important companion piece that outlined the role of charter-school authorizers (or "sponsors"), of which Fordham is one.
Few people probably know that authorizers exist, much less what they do. But authorizers are crucial cogs in the charter-school system, as they perform four major tasks: they (1) review applications for a new charter school; (2) establish a contract with a school to allow it to open; (3) ensure compliance; and (4) renew (or non-renew) a contract with the school. We at Fordham take our responsibilities as an authorizer seriously, and we support the principles of rigorous authorizing standards set forth by the National Association of Charter School Authorizing (NACSA). Many authorizers in Ohio do the same—though seemingly not all, as evidenced in the Dispatch's article. As charter-school quality comes into greater focus for the Buckeye State, authorizers and their practices must come under the microscope. But first, here are a few things to know about authorizers in Ohio.
1.)   Ohio has a smorgasbord of charter authorizers
Sixty-eight entities currently authorize at least one of Ohio's 393 charter schools. Such entities include the Ohio Department of Education (ODE), thirteen educational-service centers (ESCs), forty-four school districts, seven nonprofits, two joint-vocational districts (JVSDs), and one university. (Under a new law, the mayor of Columbus may now authorize charters.) Figure 1 shows the breakdown of enrollment by authorizer type, showing that nonprofits and ESCs authorize schools that educate the bulk of the state's charter-school students (55 and 32 percent, respectively).
Figure 1: Distribution of charter school students across authorizer types – Fall 2012 enrollment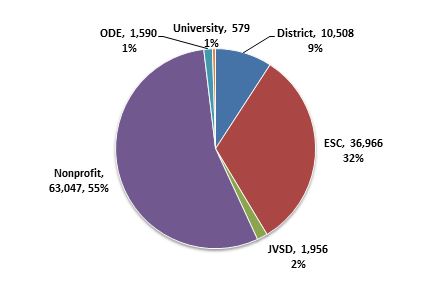 Sources: Ohio Department of Education, Community School Directory (last accessed January 17, 2014); Enrollment is taken from the October 2012 headcounts, the last available data.
2.)   Districts typically authorize one or two independent dropout-recovery or virtual schools
Given the constant huffing and puffing about charters from pro-district folks, it is perhaps ironic that a few traditional districts have gone into the authorizing business. Granted, not many districts utilize this part of the charter-school law (just forty-four out of 610 districts authorize a charter). But enough do so that they comprise a non-trivial portion of the charter-authorizing landscape. The two largest district authorizers are Cleveland (eight charter schools) and Reynoldsburg (five). Cleveland's portfolio is fantastic (including many of the Breakthrough and ICAN charter schools) and ought to be the envy of the nation.
Nearly all other districts, however, authorize just one or two charter schools. Often the charter is a "dropout-recovery" school or an online charter school. By my count, of the state's seventy-four dropout-recovery charters, twenty-four are authorized by a district. And of the state's twenty-six online charters, thirteen are authorized by a district. (Dropout-recovery and online charters are not necessarily independent; a charter can be designated as a both a dropout-recovery and an online school.)
Why the emphasis on district-authorized dropout-recovery schools? One can only speculate. Yet, one explanation could be found in state law, one that exempts a dropout recovery school's student test scores from a district's test results, even if it is authorized by the district [ORC 3302.03(I)]. In other words, the students—who now attend a dropout-recovery school—vanish from the district's report card.
3.)    Public and private universities can authorize charters, too
Ohio law allows the state's thirteen public universities to authorize charters. These include universities such as Cleveland State, Kent State, Ohio State, and the University of Cincinnati, among others. Presently, only one public university, Bowling Green State University, authorizes a charter school—and a pretty good one at that (Toledo School for the Arts). Moreover, Ohio's private colleges and universities could conceivably authorize charter schools. Under state law, IRS 501(c)(3) nonprofit organizations incorporated in Ohio that are an "education-oriented entity" can authorize charter schools, which includes Fordham. This means that colleges such as the University of Dayton, Denison, Kenyon, Oberlin, or Case Western—all of which are 501(c)(3) organizations—could enter the authorizing business. The addition of more high-quality, well-known sponsors like public and private universities could change the dynamic in Ohio charter authorizing.
Conclusion
It's unsettled whether the structure of the authorizer per se matters when it comes to achievement. A (now slightly dated) study by the Center for Reinventing Public Education (it used Ohio student-level data from 2005 to 2008), found that achievement differed little when ESCs and districts were compared and that the achievement of charter students authorized by nonprofit entities slightly lagged. That being said, authorizers still do matter in a macro sense: They are empowered with the strong tools—viz., fielding applications, approving contracts, and renewing them—that create the conditions for a thriving system of charter schools. Ohio has made incremental improvements in its authorizing policies and practices, but major repairs are still necessary to grow best-in-class charter sector. That much is evident from the Dispatch's article. Getting authorizing right (who authorizes and what their standards are) will be the lynchpin for such a radical improvement in Ohio's charter-school sector.